The number one concern dominating markets has moved from inflation to growth in recent weeks. Inflation remains stubbornly high caused by temporary supply constraints due to Chinese COVID restrictions, weather events, and the Russia-Ukraine war.  The market reaction has been particularly severe because of the expectation that central banks would continue to raise interest rates and this would ultimately lead to a recession.  As a cue for the bottom, markets are waiting for central banks to pivot away from aggressive rate increases in response to a poorer growth outlook – we may not be there yet, but it would appear we are getting close!
Not surprisingly, market woes continued with the table below revealing that over the last year, cash was the only place to hide from falling asset prices!  When I look at this chart is pleasing to see how resilient our portfolios have been in this environment.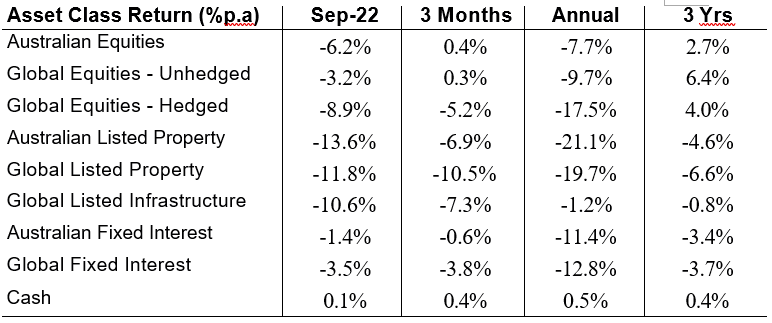 A recession overseas and in Australia will cause some pain.  In my view, this is a necessary part of the cycle to correct economic imbalances caused by responses to the pandemic.  Residential property prices are falling with more to come, but provided widespread unemployment does not become an issue (which seems unlikely) the decline in the property market should be limited to gains made since the pandemic.  Furthermore, it should be highlighted that share markets are forward-looking and typically move far ahead of economic announcements, and counterintuitively perform well during recessions. This reinforces the need for long-term investors to stay invested as the recovery will happen when it is least expected, and it will be swift.
The information provided should not be considered personal financial advice as it is intended to provide general advice only. The content has been prepared without taking into account your personal objectives, financial situations or needs. You should seek personal financial advice before making any financial or investment decisions.